Vocoder SV-5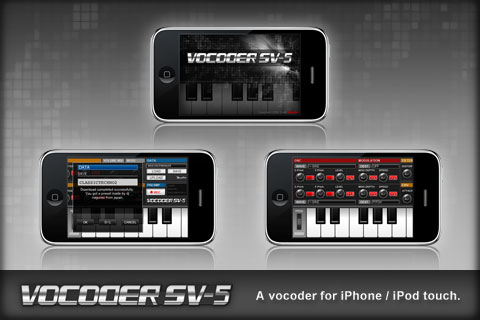 September Sale!!
""make sure to download
Version 1.1.0 where the major latency problems are solved.All Sound system now operates in 44.1Khz 16bit!! ""
Vocoder Synthesizer SV-5 is a real vocoder and synthesizer emulator for iPhone and iPod Touch.
Vocoder Synthesizer SV-5 records your voice and transforms it as a real vocoder.
everything in about real time (there is a short delay).
Note that this is different from a basic voice changer.
For people without knowledge about synthesizers it might be a little hard to understand all the controls. We recommend you to first look at the presets (our pre made settings) to get an idea on how to use the controls.
*iPhone / iPodTouch (2nd generation) users just have to talk or sing into the microphone while playing on the keyboard and the vocoder effect will be put on your voice.
iPod Touch (2nd generation users should notice that Apple's special microphone hardware is necessary for microphone input.
*iPod Touch (1st generation) users can unfortunately not make use of the vocoder feature but can still use it as a normal synthesizer.
There might be some 3rd party microphone hardware available but that's nothing we can guarantee.
[ RECORDING ]
Record up to 1.5 minute of your own creations in 44.1khz, 16bit mono. Vocoder or synthesizer is recorded on one track.
It's also possible to record while your are listening to your previous recording. With this feature you can add unlimitedly new things to you recording.
The recording feature can also be used as a normal voice recorder.
[ EDIT YOUR SOUNDS ]
The control panel look much like a real analog synthesizer which makes it easy to edit your sounds.
You can of course also save your settings as presets.
save up to 84 of your own presets (16 Pre-made presets is included).
[ PRESET EXCHANGING ]
Upload your own presets to our server and make it possible for other users to download.
Of course you can also download presets made by other users.
[ PRE-SAMPLING ]
With the pre-sampling feature you can record up to 5 seconds of your voice and then have it looped as input for the vocoder.
this feature makes it even easier to adjust your settings.
[ PC SYNC ]
Using your computers web browser you can easily download your recorded files (.WAV) via WI-FI from the iPhone. Use it as ringtone or in your own music.
[ SYNTHESIZER ]
Switch to synth mode and you can use it as an analog synthesizer.
With all the controls its possible to make a lot of fun and interesting sounds.
The controls are:
2 oscillators (Oscillator A have 18 different waveforms and Oscillator B have 6.)
2 Modulators
Distortion
Lowpass Filter
Volume Envelope
Master Tune
Ring Modulation
[ SUPPORT MIC ](iPodtouch1st - iPhone)
LOGITEC LIC-IREC01
ALESIS ProTrack
Macally iVoicePro microphone
[ MORE? ]
There is more that we haven't mentioned here but we will leave that up to you to explore for yourself.
We look forward to hear your thoughts about SV-5. If you have ideas how we can improve it further do not hesitate to tell us.
* If the application runs slow try to reboot or restore your iphone!